Borehole Pumping Sets
Our range of 3" and 4" borehole pumps can be supplied in a kit together with standard control box, waterproof cable fitted to the pump and support rope (does not include any pipe or fittings).
We offer the option of level probes to provide dry-run protection for the pump which includes a special control box in place of standard and 2 level probes with waterproof cable for each.
Where the water is to be pumped directly into the distribution main we offer pressure sets complete with pressure switch and pressure gauge including switch/gauge fittings.
If you are pumping to a storage tank we offer float switch control or a timer unit with pressure cut-off.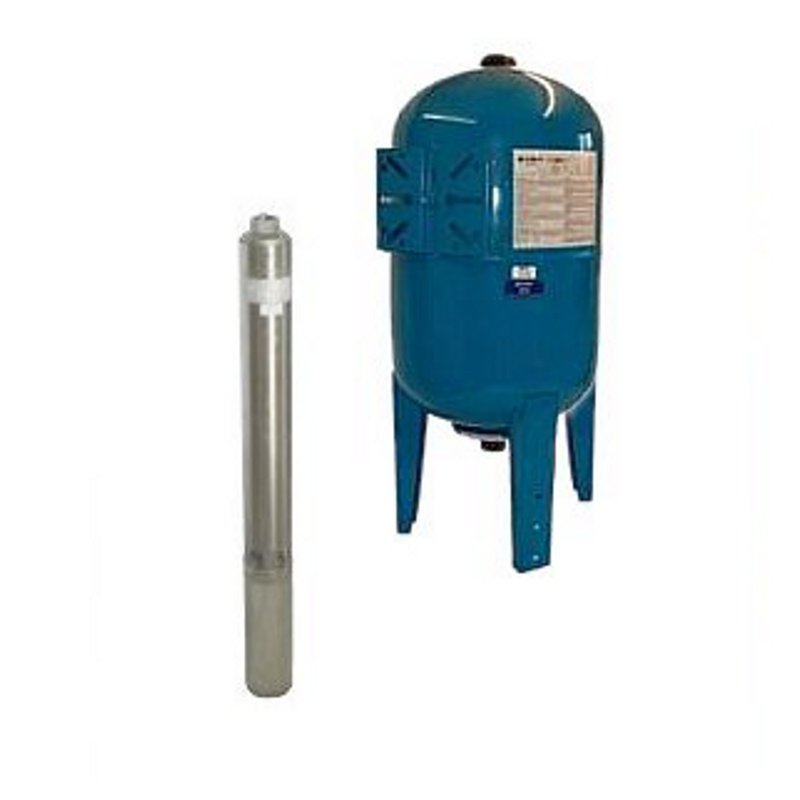 Borehole pumping sets using ST pumps
Power
Depth
Pumping
kit
Kit
+ level
control
Standard kit with pressure set *
60 litre
100 litre
300 litre
500 litre
ST0513
0.37kW
30
£501.00
£642.00
£709.00
£709.00
£1078.00
£1402.00
ST0513
0.37kW
40
£522.00
£682.00
£730.00
£730.00
£1099.00
£1423.00
ST0519
0.55kW
30
£546.00
£688.00
£754.00
£754.00
£1124.00
£1448.00
ST0519
0.55kW
40
£568.00
£728.00
£776.00
£776.00
£1145.00
£1469.00
ST0519
0.55kW
50
£642.00
£820.00
£850.00
£850.00
£1219.00
£1543.00
ST0526
0.75kW
30
£621.00
£763.00
£829.00
£829.00
£1198.00
£1522.00
ST0526
0.75kW
40
£685.00
£844.00
£893.00
£893.00
£1262.00
£1586.00
ST0526
0.75kW
50
£717.00
£894.00
£925.00
£925.00
£1294.00
£1618.00
ST0526
0.75kW
60
£749.00
£944.00
£957.00
£957.00
£1326.00
£1650.00
ST1007
0.37kW
30
£479.00
£621.00
£687.00
£687.00
£1056.00
£1380.00
ST1007
0.37kW
40
£500.00
£660.00
£708.00
£708.00
£1078.00
£1402.00
ST1010
0.55kW
30
£527.00
£668.00
£735.00
£735.00
£1104.00
£1428.00
ST1010
0.55kW
40
£548.00
£708.00
£756.00
£756.00
£1125.00
£1449.00
ST1010
0.55kW
50
£622.00
£800.00
£830.00
£830.00
£1199.00
£1523.00
ST1014
0.75kW
30
£569.00
£711.00
£777.00
£777.00
£1146.00
£1470.00
ST1014
0.75kW
40
£632.00
£792.00
£840.00
£840.00
£1210.00
£1534.00
ST1014
0.75kW
50
£664.00
£842.00
£872.00
£872.00
£1242.00
£1566.00
ST1014
0.75kW
60
£696.00
£892.00
£904.00
£904.00
£1274.00
£1598.00
ST1020
1.1kW
30
£647.00
£789.00
£855.00
£855.00
£1225.00
£1549.00
ST1020
1.1kW
40
£679.00
£839.00
£887.00
£887.00
£1257.00
£1581.00
ST1020
1.1kW
50
£764.00
£941.00
£972.00
£972.00
£1341.00
£1665.00
ST1020
1.1kW
60
£806.00
£1002.00
£1014.00
£1014.00
£1384.00
£1708.00
* For kits with level control - additional pro rata
Prices exclude VAT - view cart / checkout

Borehole pumping sets using SP pumps
Power
Depth
Pumping
kit
Kit
+ level
control
Standard kit with pressure set *
60 litre
100 litre
300 litre
500 litre
SP0514
0.37kW
30
£535.00
£676.00
£743.00
£743.00
£1112.00
£1436.00
SP0514
0.37kW
40
£556.00
£716.00
£764.00
£764.00
£1134.00
£1458.00
SP0521
0.55kW
30
£614.00
£756.00
£822.00
£822.00
£1191.00
£1515.00
SP0521
0.55kW
40
£636.00
£795.00
£844.00
£844.00
£1213.00
£1537.00
SP0521
0.55kW
50
£710.00
£887.00
£918.00
£918.00
£1287.00
£1611.00
SP0528
0.75kW
30
£632.00
£774.00
£840.00
£840.00
£1209.00
£1533.00
SP0528
0.75kW
40
£695.00
£855.00
£903.00
£903.00
£1273.00
£1597.00
SP0528
0.75kW
50
£727.00
£905.00
£935.00
£935.00
£1305.00
£1629.00
SP0528
0.75kW
60
£759.00
£955.00
£967.00
£967.00
£1337.00
£1661.00
SP1009
0.37kW
30
£450.00
£591.00
£658.00
£658.00
£1027.00
£1351.00
SP1009
0.37kW
40
£471.00
£631.00
£679.00
£679.00
£1049.00
£1373.00
SP1013
0.55kW
30
£490.00
£632.00
£698.00
£698.00
£1068.00
£1392.00
SP1013
0.55kW
40
£512.00
£671.00
£720.00
£720.00
£1089.00
£1413.00
SP1013
0.55kW
50
£586.00
£763.00
£794.00
£794.00
£1163.00
£1487.00
SP1018
0.75kW
30
£616.00
£757.00
£824.00
£824.00
£1193.00
£1517.00
SP1018
0.75kW
40
£679.00
£839.00
£887.00
£887.00
£1257.00
£1581.00
SP1018
0.75kW
50
£711.00
£889.00
£919.00
£919.00
£1289.00
£1613.00
SP1018
0.75kW
60
£743.00
£939.00
£951.00
£951.00
£1321.00
£1645.00
SP1023
1.1kW
30
£684.00
£825.00
£892.00
£892.00
£1261.00
£1585.00
SP1023
1.1kW
40
£716.00
£875.00
£924.00
£924.00
£1293.00
£1617.00
SP1023
1.1kW
50
£800.00
£978.00
£1008.00
£1008.00
£1378.00
£1702.00
SP1023
1.1kW
60
£843.00
£1038.00
£1051.00
£1051.00
£1420.00
£1744.00
* For kits with level control - additional pro rata
Prices exclude VAT - view cart / checkout